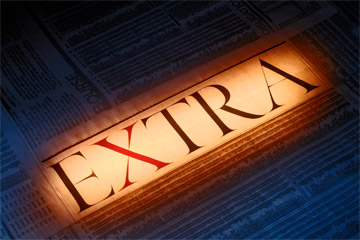 A press release is a great marketing tool. A well-written press release will convey news to your audience about what is up and coming in your small business. The problem is: we don't always know if we need a press release or not. Maybe you just want to post about a calendar event? Perhaps you're going to be a merchant at an upcoming vendor fair. Reasons like that may not be worthy of a press release. If you are still questioning yourself about writing a press release, read on!
We like to think that anything important in our business is press release-worthy. Ask yourself "what am I trying to convey?" Is it something that you would see in a newspaper? Is it even news? If you can tell your news to someone in person, thinking they'd find it interesting and informative, there's a good chance you're leaning towards needing a press release written. If you think that your information may just be a little flat and lacking, you're better just putting it out in a message to your email list.
Press releases generally need to fill one complete page. The page cannot be filled with fluff; you need to have an interesting story that takes up about 4 paragraphs. If you don't have enough information to do this, odds are you don't need a press release. Writing a press release also takes time to execute properly. Do you have enough time to write one, or to hire a writer to create one for you?
I Definitely Need a Press Release
Now that you've determined that you do in fact, need a press release for your small business, there are a few "musts" that have to be part of the construction.
A Solid Headline– Don't give away all your information in the headline and sub-headline. Think of a good heading that will make your press release sound interesting.
A Bad Headline for a Press Release:
Company Sells Waterproof Oven Mitts to Housewives (it doesn't even sound interesting, though the product may be valuable and of interest).
A Good Headline for a Press Release:
Company Offers New Product to Reduce Risk of Kitchen Burns (it looks professional and will gain the interest of the reader).
List Your Lead– many people like to put valuable or key information at the bottom of articles. This entices your viewers to keep reading. Press release writing is not like article writing. You must put your news in the first paragraph.

Straight Facts- there is no room in a one page press release for junk. Every word you write must be about the story or news you want to convey.

Speak in the Third Person– even if you're writing the press release about your company and you're the CEO, you have to refer to your business as the business.
Press release writing, in general, is fairly simply. It's knowing when you need a press release as part of your small business design that's the tricky part. Just remember: if it's not news, no press release is needed.